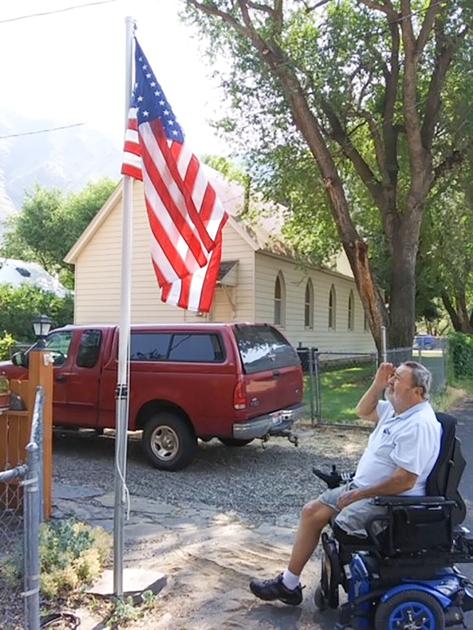 Riggins News: Hot Summer Nights to tap for the weekend | Community
RIGGINS – Excerpt of the week: "Always, always, always something to be thankful for!" from Homemaking Tips.
A dear Riggins veteran, Hal Harris, recently spent weeks in rehabilitation at Boise VA Hospital after having his left leg amputated. Then, only out of the hospital a week, Hal erected a flagpole in his yard, raised his American flag and gave his dignified military salute (see photo). Her daughter bought and painted a pole; Hal rested. Yes, there is always something to be thankful for and Hal shows his gratitude here.
Riggins will focus on the weekend with numerous Hot Events, SRHS Class reunions, family and friend gatherings for the annual Riggins Hot Summer Nights "I Love the '80s." It will be a blast with a lot of action in 1980 this Friday and Saturday, July 23 and 24. Check out the story in this paper for details.
Bingo is tonight, Wednesday, July 21, 6:30 pm in the basement of Riggins Community Center for all 18 and older.
Vacation Bible School will be held Monday-Friday, August 2-6, 9-11 a.m. at Salmon River Community Church. Preschool-4th grade children are invited to attend. There will be Bible stories, singing, art, games, snacks and lots of fun. Registration will begin 8:30 a.m., Monday, Aug. 2. If you would like to volunteer to help, contact Becky Chapman, Cindy Carlson or Jeannie Fitch.
Salmon River High School, Junior High School and Riggins Elementary Schools will have school registration for the 2021/22 school year on Monday, Aug. 9 for new students. Get a certified birth certificate and a copy of vaccination records. Returning students will register on Tuesday and Wednesday, August 10 and 11.
The Riggins Red Cross Blood Drive will be held Tuesday, Aug. 10, 1: 30-7 p.m. and Wednesday, Aug. 11, 8:30 am- 1 p.m., both at Salmon River Community Church.
The Idaho County Fair is official Aug. 16-21. The fair booklets were inside the Idaho County Free Press last week; additional booklets are available at the Free Press building as well as some businesses around the province.
The ETC Thrift Shop is in need of volunteers. Contact Lisa Daniels at ETC 208-628-3438 or stop by ETC.
"Let our trash be your treasure." 30 years of accumulation at 1016 Borah Avenue in North Riggins is being offered for sale Friday-Sunday, July 23-25. There are many items to choose from.
There will be a memorial service for our dear friend, Willa Miller on Saturday, August 7, at 2 pm, at Salmon River Community Church. Willa died Feb. 8.
Our grandson Finn's All-Star Baseball Team won the District Championship last week in Butte, Mont., And will host the State playoffs this weekend in Dillon, Mont.
That's the way, Finn! Keep up the good work.