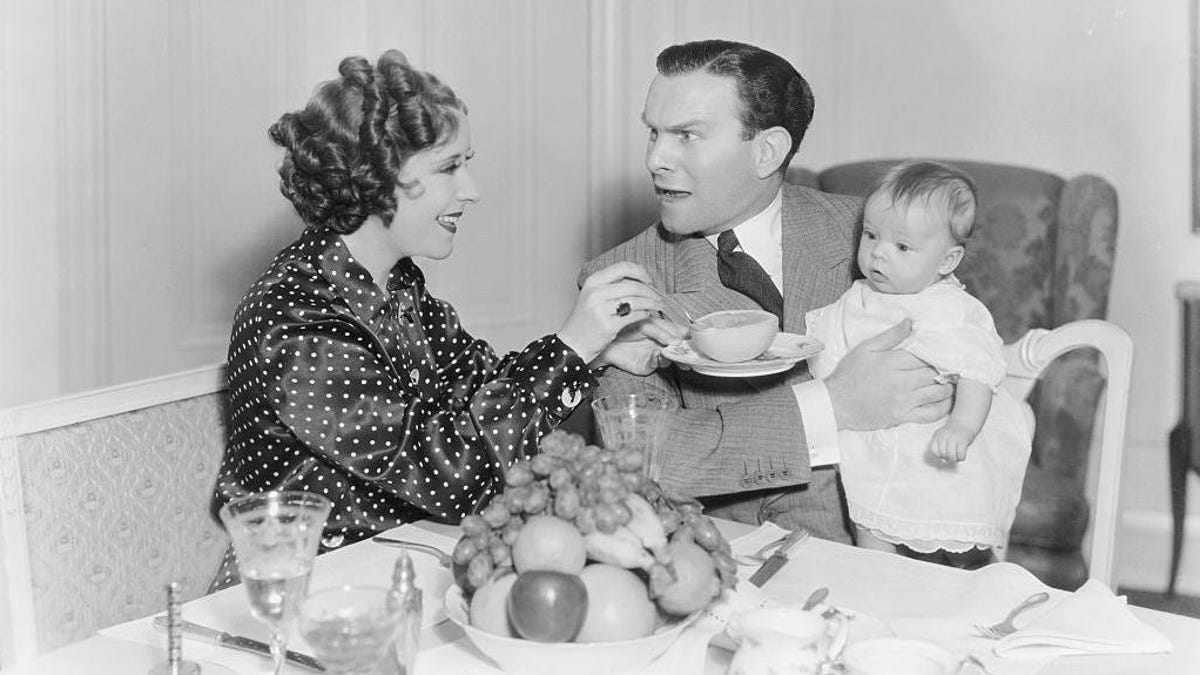 On this Father's Day, we remember some classic Total Mom Moments
There's a reason so many classic American sitcoms feature a dining room set: it's a gathering place that sees our families at their highest and lowest moments. For many parents, the dining table is also a respite (or at least a short hiding place) from a long day of fostering, babysitting, running errands, and tidying the house, inviting them to show their most true selves. On this Father's Day, we revisit the dinners when our fathers, for lack of a better term, were the best version of themselves they ever had.
---
The great Fortune Cookie Boycott
I grew up in Kenosha, Wisconsin when it was still Factory Town. When mom had bowling in the league Friday night, my dad would take me out for dinner. The destination is a solid round of Ron's Place (home of 5×5 hamburgers), Poncho O'Malley's (a mexican restaurant known on Fridays for its all-you-can-eat beer-battered perch), and Lily's, a delicious Chinese restaurant between the fotomat and the savings and debt. We are creatures of habit.
When we go to Lily's, the three of us split into two entrees. One is a Sweet & Sour Chicken; the other is usually more Sweet and Sour Chicken. Two entrees are enough for an old man and two minors. After our meal one night, my father was shown the bill and two fortune cookies. He bristled and immediately approached the register, arguing that three people had given out three cookies, but the owner, Lily, stopped him. Still not maintaining his composure, the father handed out cookies to his two sons and stewed about this incident on the drive home, and frankly for years. I think he really liked that cookie.
After that, Lily had no more rotation. Despite coming back several times after this to others, I never went back with my Dad and I'm sure he boycotted the restaurant until it closed. Although it happened when we weren't at our dining table, I would argue that "hitting and boycotting a restaurant by shortening a cookie" is something a father should do. –Nick Leggin, contributor
G / O Media can get a commission
---
Ang THWERCK! heard 'all over the world

When I was a kid, my parents were big on family dinners. I'm not allowed to read, doodle, or complain at the dinner table-it's family time, and family time is for my mom to share the nail salon gossip while my dad shares about the theories gleaned from on AM radio. We ate dinner at my family's frugal dinner, complete with five incompatible chairs, until I was in junior high. At that point, my parents invested in a fancy high top set with a sleek rectangular table and dark wooden chairs. The chairs really classify our kitchen into dining — until one night, when family dinners are forever changed thanks to an audible hearing.
That night, we sat down with bowls of leftover Taco Soup, a Stone family ingredient positively filled with beans. My mom made soup last night, so it became a 24 -hour Bean Fest in our household. We ate in relative silence until—THWERCK!—My father tore down the hardest fort in the world. It was not a whispering lice, nor a sad fart. It's the kind of fart that catapults on a person's body and ricochets from the nearest surface. And that surface was my father's main type of wooden chair. The lice swarmed the chair, echoed throughout the kitchen, and caused the whole family to fall silent, mouths furrowed.
Sheepish, my father covered his chin with his chest, then raised his eyebrow and cracked a small grin. This was the beginning of my nightmare. I now live in a state far away from my parents, so I probably eat a total of six meals a year at the wooden dining table. But my father's sharp, sharp farts were always waiting to greet me at home. –Lillian Stone, staff writer
---
Korean Barbecue and Ecuadorian Communion Wine
My parents had big trips. They try to make a big trip internationally at least once a year, and they're the kind of wanderers who want to leave the beaten path alone. They once disappeared in Colombia but didn't tell me until later, and I still hate them for that one. No one around them could help because of the language barrier and eventually they found the right bus and got back, but jeez.
One summer afternoon, five or six years ago, I was at home hanging out for lunch, bald fresh from the grill with my family, when my father took a bottle of wine from in a cabinet.
"I got it in Ecuador for a special occasion!" he said. "Let's drink it because we're all here."
Since my parents don't usually bring home a lot from their travels apart from hundreds of digital photos, it's exciting. Plus none of my family members other than me are very fond of alcohol, so it was a much more special deal.
We broke it and opened it. I remember it was so sweet, and just felt something iba about there. An instinct told me it wasn't an ordinary bottle. I turned around and saw a chalice on the brand, so I immediately googled wine and realized we were drinking Ecuadorian Catholic communion wine in our shortribs in Korea.
"Hey dad," I said, "Did you happen to get it through a church?"
"Yes," he said. "We got it next to one." That was a heck of a souvenir.
Mom exclaimed, "After lunch we will be more banal! "My sister almost cried with laughter and my cheek hurt from smiling when I was just thinking about it.